⏰Reminder! Make sure your student has their immunizations and physical up-to-date. Take advantage of the long weekend to get these taken care of at Ellis County Health Department. Remember by appointment only on Friday and walk-ins on Monday. ⏰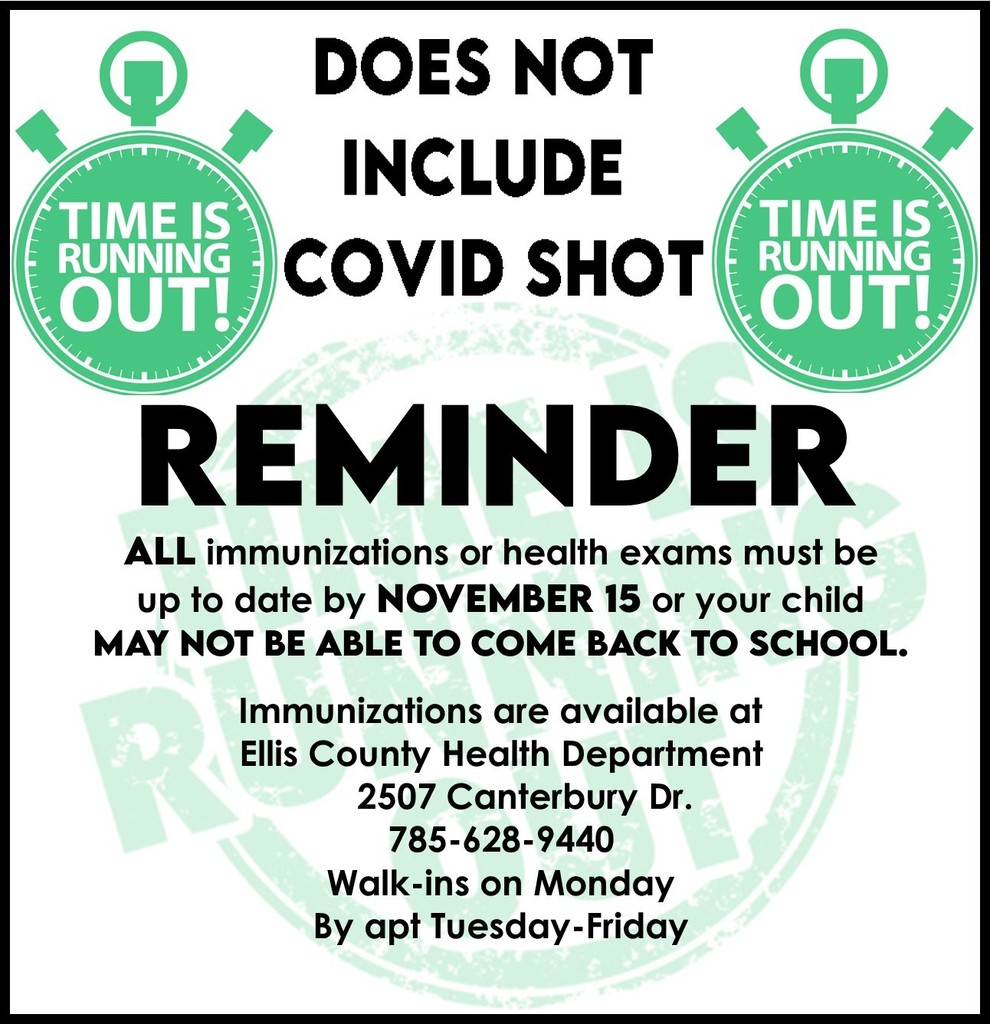 Board of Education Meeting tonight. You can watch via this link:
https://youtu.be/0F9-CZtGf1M
Meeting starts at 6:30 pm. #EveryStudentEveryDay489

!! IMPORTANT !! Please take a moment to read!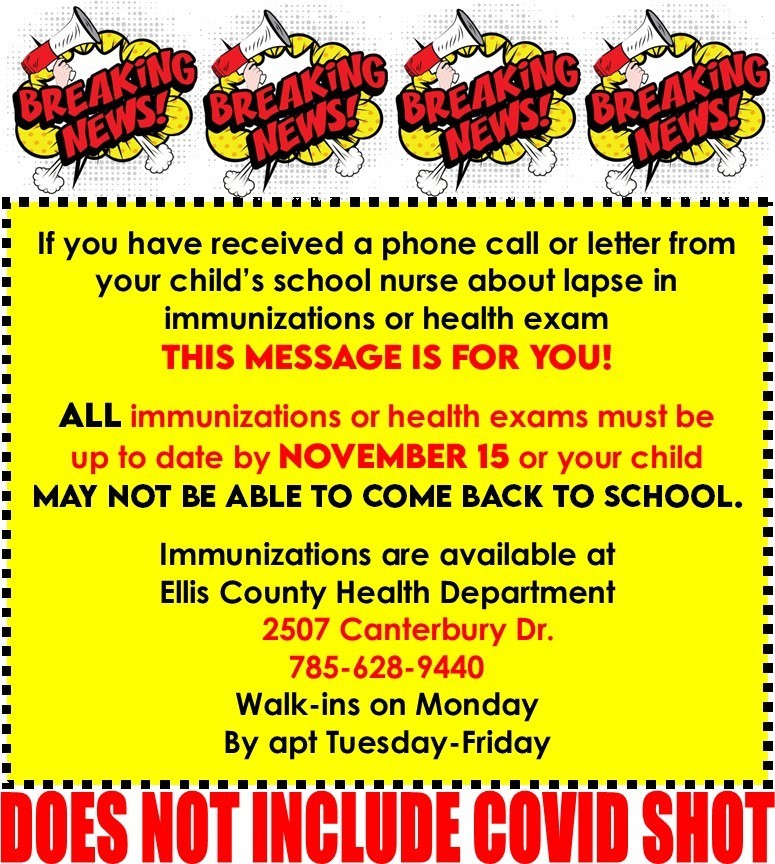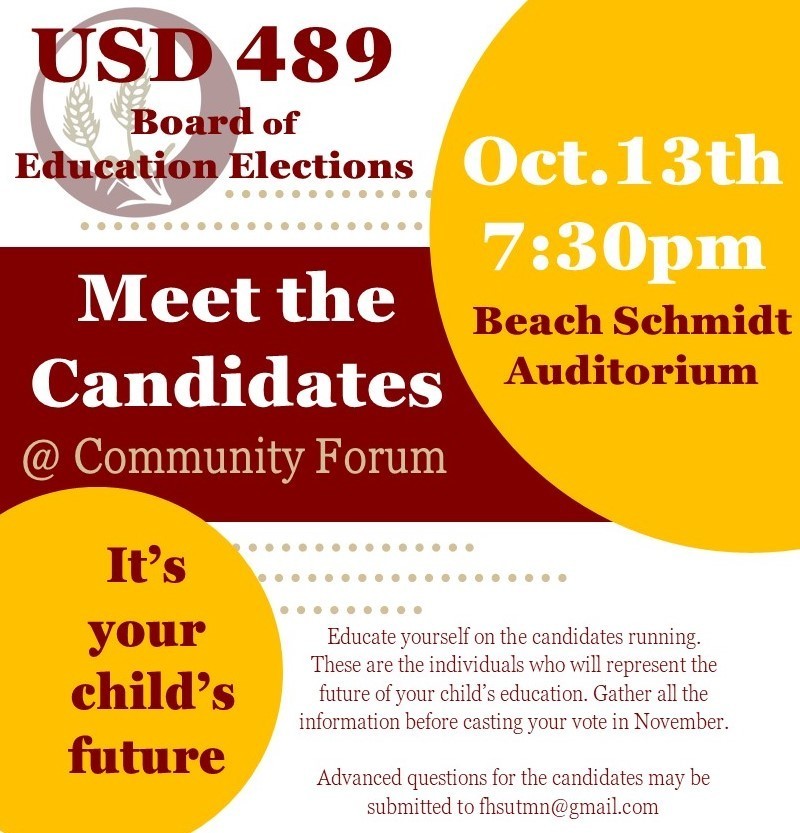 October 23rd is right around the corner, but IT'S NOT TOO LATE! Get your tickets for the 3rd Annual Project 489 Auction. Come enjoy live entertainment, delicious food and bid on amazing auction items all in support of your USD 489! Click the link below for tickets.
https://fundraiser.support/project489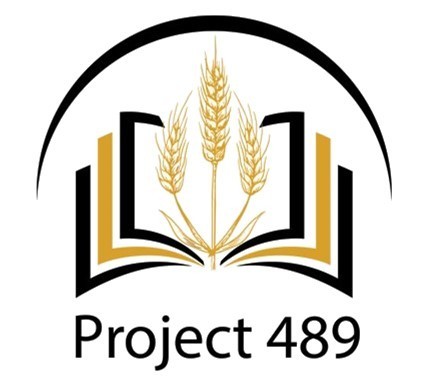 An important election for USD 489 Board of Education is coming up. Make sure to educate yourself about the candidates, register to vote and then VOTE. Candidates were sent questions about their stance on a variety of educational issues. Below is a link with their answers.
https://drive.google.com/.../1XanZfM5fBZ8ZwiPUINvziR-eUt
....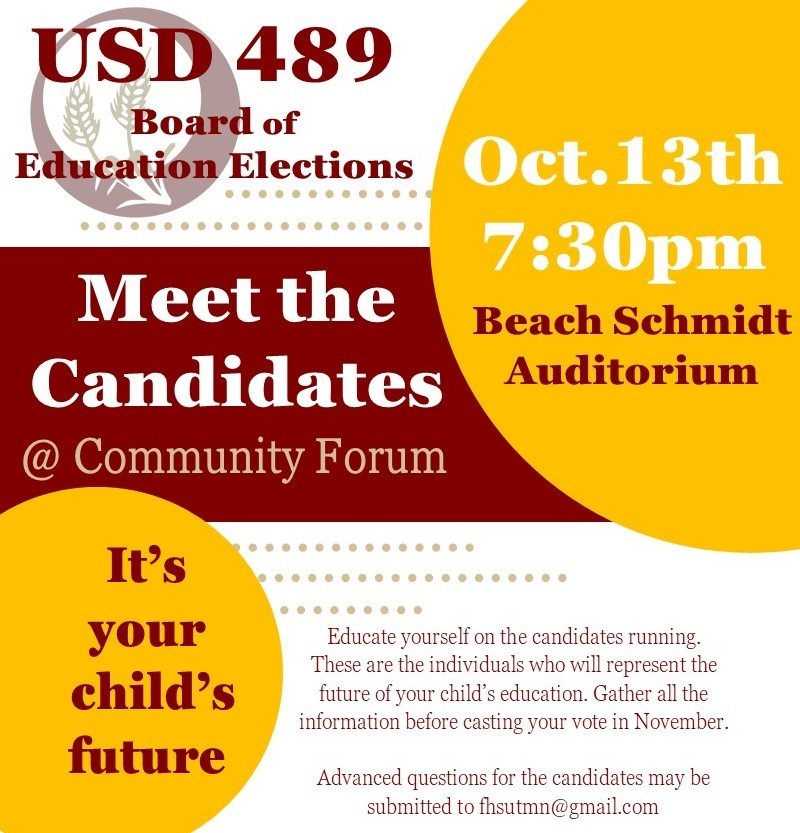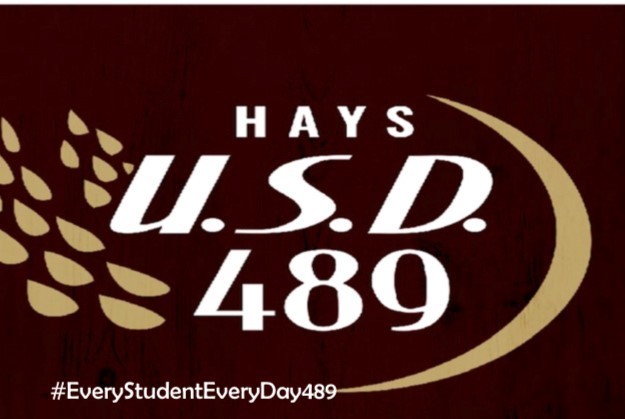 Celebration time! Roosevelt Elementary has been awarded the highly coveted National Blue Ribbon School Award! 325 schools were given this honor nationwide while ONLY 5 schools were awarded this distinguished award in the state of Kansas. This award recognizes Roosevelt as an Exemplary High-Achieving School based on state assessments and standardized tests. The National Blue Ribbon Schools award affirms the hard work of students, educators, families, and communities in creating safe and welcoming schools where students can have high achievement. Congratulations again to Roosevelt students and staff.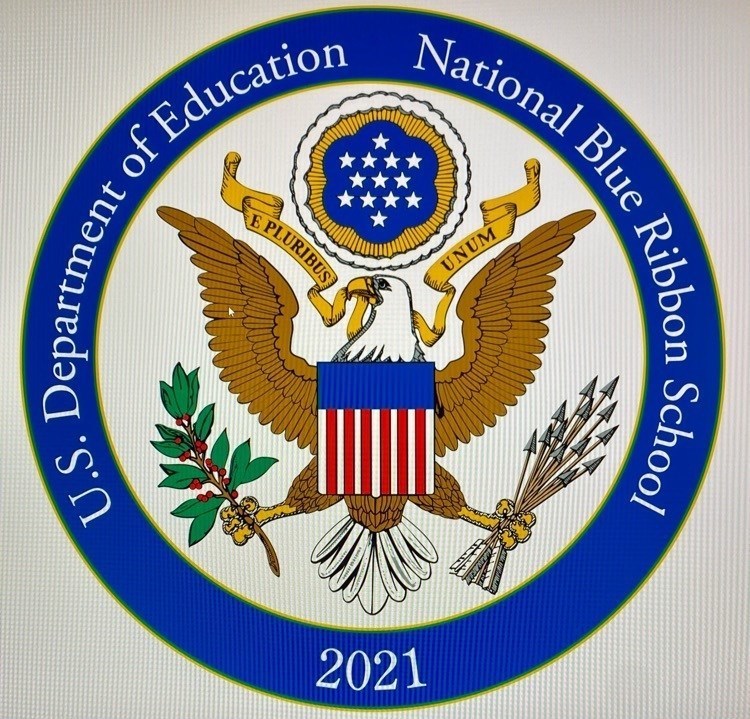 Nutrition Services is hiring!! Check out the flyer below!! #EveryStudentEveryDay489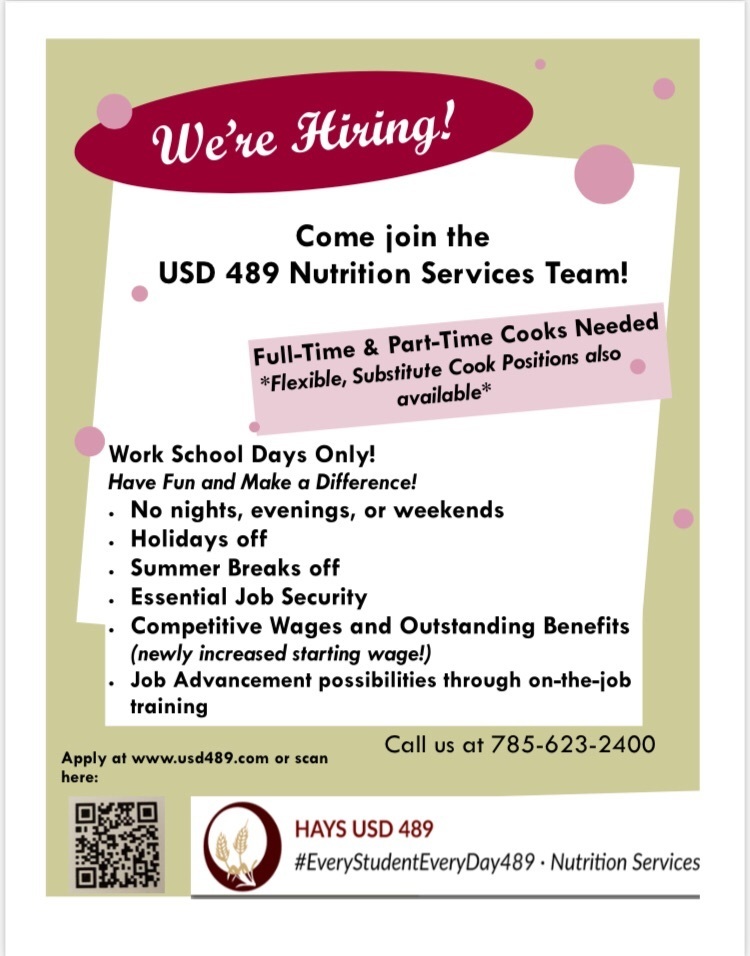 Go Truck Go is coming!! This week!! You won't want to miss it! #EveryStudentEveryDay489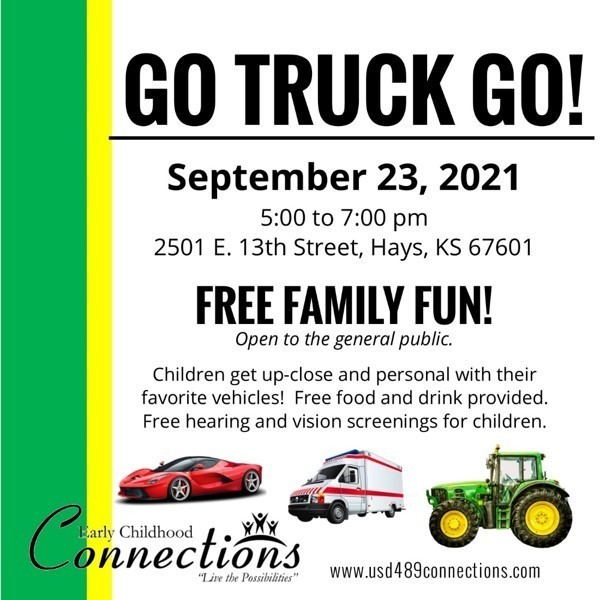 Based on the average of 20 positive cases this last week in USD 489, the district continues next week with Covid Mitigation protocols of no required masking, 10 day quarantine for close contacts or return to school if mask is worn and symptoms monitored. See the updated mitigation protocol here:
https://5il.co/z6ta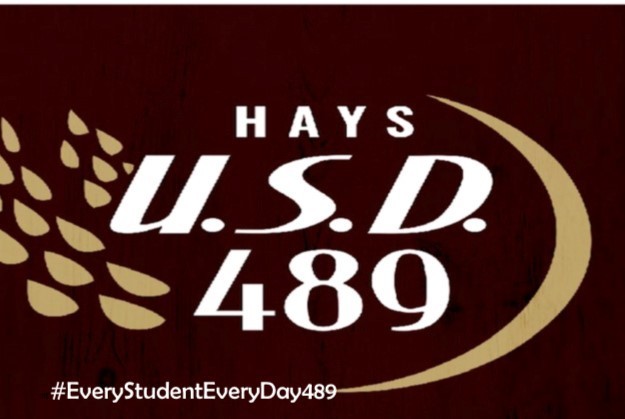 USD #489 has added some new social media accounts!! #EveryStudentEveryDay489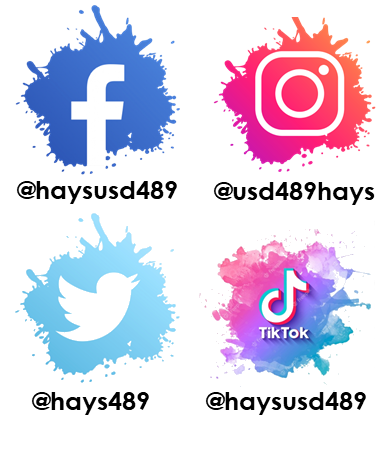 September is National Suicide Awareness Month. Take a moment to check-in on those around you and the ones you love. Life can be hard. Make sure they know they are not alone. #EveryStudentEveryDay489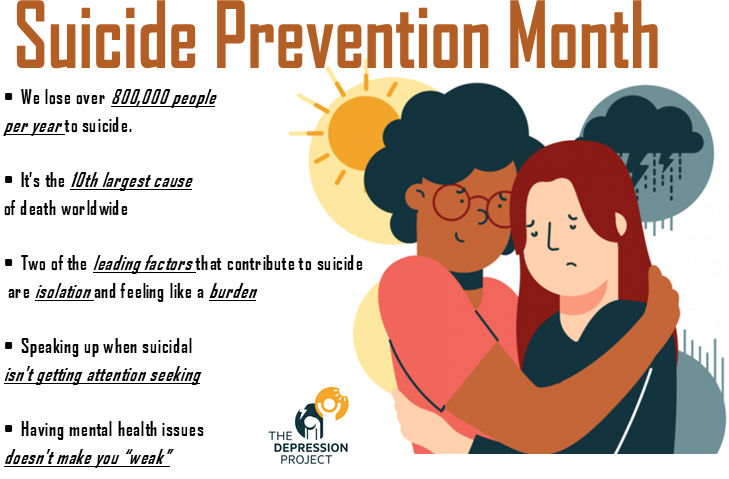 Want to join our team? In you are interested in helping kids with their learning and enjoy working with teenagers, we'd like to meet you! We offer a supportive workplace and a great work schedule. Apply for our position at Ellis High School at
https://www.applitrack.com/haysusd489/onlineapp/
#EveryStudentEveryDay489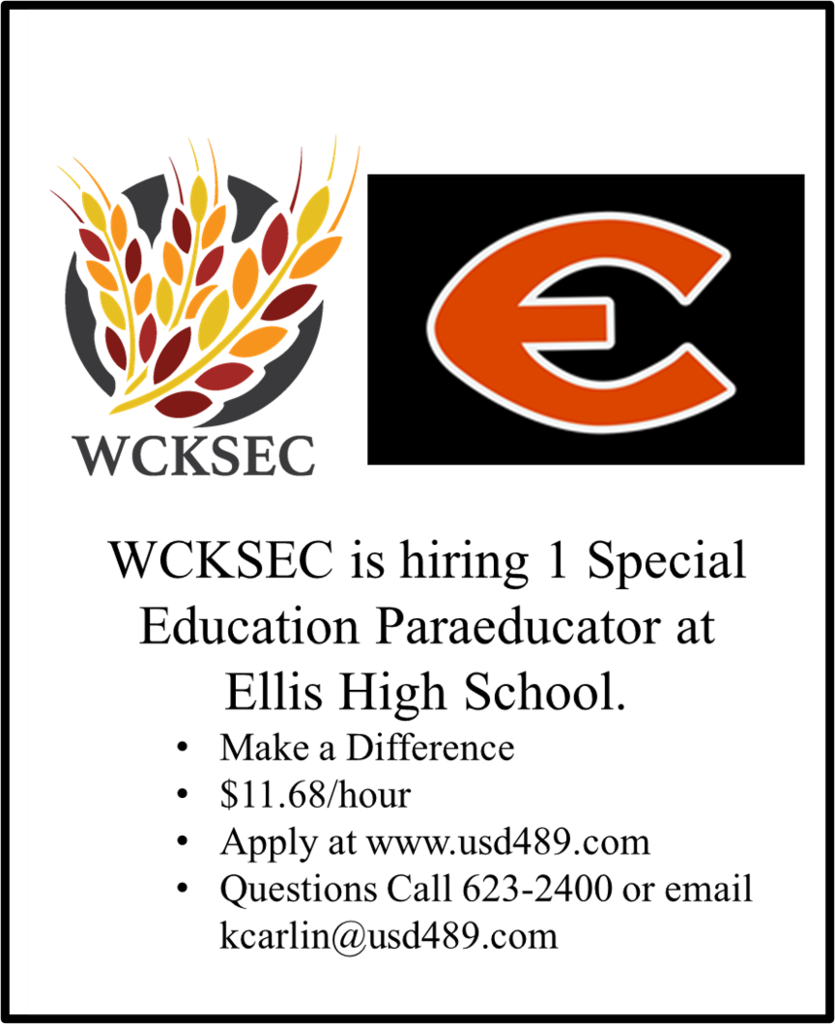 Updated Quarantine Details..
https://5il.co/yga4
This goes into effect on 09/07/2021. #EveryStudentEveryDay489

USD 489 currently has a great need for substitutes in all departments, including Teachers, Classroom Aides, Nutrition staff, Custodial and more. We are holding a Substitute Job Fair on Thursday, September 2nd from 2pm to 4pm. If you have at least 60 hours of College Credit and are interested in Substitute Teaching, we can help you get started with licensing, and even assist with fees for qualified candidates. Sub as often or as little as you like and receive competitive wages! Come visit us at 323 West 12th between 2:00 and 4:00pm on Thursday September 2nd in the Rockwell Board Room. #EveryStudentEveryDay489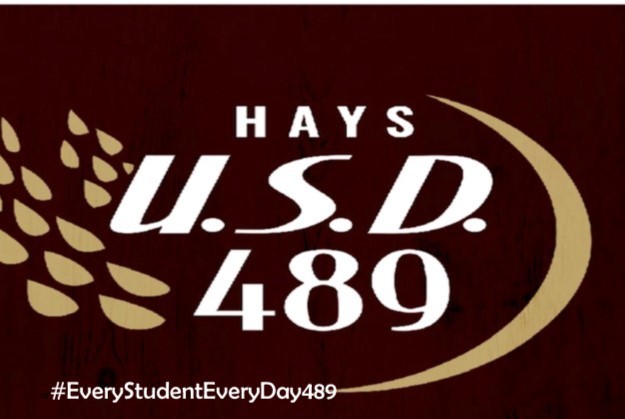 USD #489 in partnership with DLR Architects recently conducted a facility score of each USD #489 facility. The goal of this scoring was to help assess the current conditions of every school facility as it relates to its ability to create a valuable learning experience for every student every day in USD #489. To review the scoring, follow the link:
https://5il.co/y5cx
#EveryStudentEveryDay489

Want to make a difference?? This might just be the perfect job for you!!! Check it out! #EveryStudentEveryDay489

Please Welcome Adam Goetz to USD #489!! I am a new CTE teacher at HMS and HHS this year. I will be teaching woodworking, technical applications, and some shop classes. I am a Hays Native, graduating from Hays High in 2010. I received my bachelor's degree from FHSU in 2014 and have been working in the construction industry ever since. I have a lot of experience with home designing, project management, and estimation of projects. My wife and I have two daughters and we are very excited for this new journey. I am looking forward to giving back to the district that gave me a love for woodworking at such a young age. A random tidbit about me is I love going to the lake and could spend all day on a boat! #EveryStudentEveryDay489

USD #489 District Calendar has been updated!! Early Release Dates changed in October, February & April. Linked here...
https://5il.co/pv2w
#EveryStudentEveryDay489