WE ARE SO GLAD YOU ARE JOINING THE USD489 FAMILY! PLEASE SEE BELOW FOR INFORMATION ABOUT ENROLLMENT.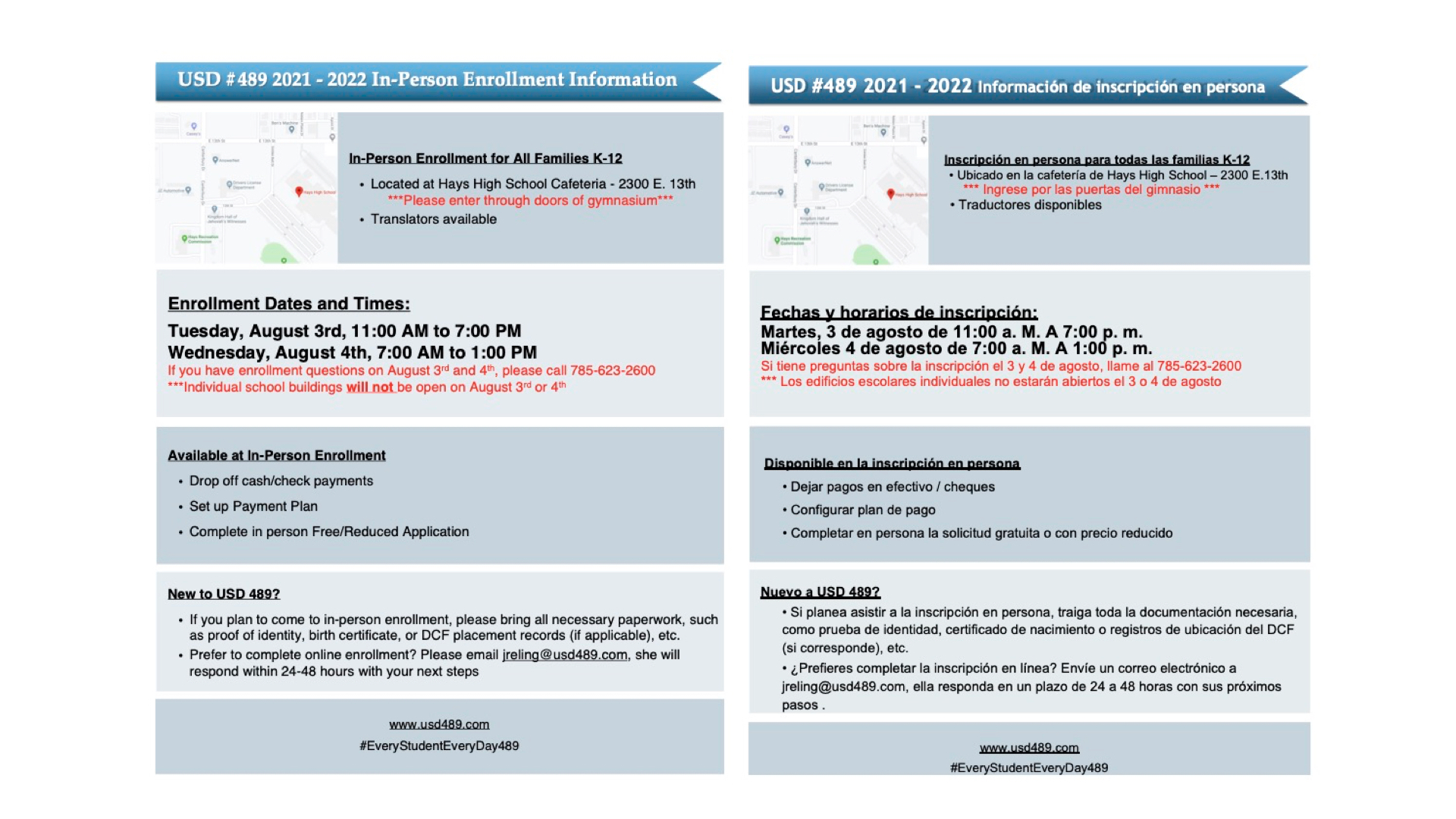 PARENTS MAY ENROLL NEW AND RETURNING STUDENTS BY FOLLOWING THE STEPS BELOW:
1. ONLINE REGISTRATION FORMS
These forms are found once you log into PowerSchool. If you are a new Kindergarten student or a new family coming into our district for the first time, you will need your student access ID and Password from your school. Kindergarten students, those will be mailed out within the next week.
New Students to the district, please contact jreling@usd489.com and she will respond within 24-48 hours.
2. APPLY FOR FREE/REDUCED FEES
If you qualify for Free your workbook/materials and technology fees would be waived.

If you qualify for Reduced your workbook/materials fees would be $45 and your technology fees would be $12.50

The free/reduced fees application is available online, please visit https://secure.ezmealapp.com/ApplicationScreen.aspx
There is an online payment option using credit, debit, or eCheck. The previous convenience fee of 3.61% has been waived this year. You can log onto the USD489 Web Store to pay those student fees. If you haven't created an account yet, you will need to do that and those instructions are included below in the "Instructions for Paying Fees Online". Student Fees are available online immediately after the forms have been completed. You are also able to purchase extra items at that time such as school lunches, booster clubs, etc. Parents choosing not to use online for payment may pay at the in person Central Enrollment on August 3rd and August 4th (more information listed below). See below for more information about fees.