EDIT MAIN
PBIS – Positive Behavior Interventions and Supports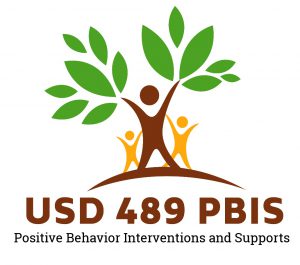 Welcome to the USD 489 PBIS Page.
---
Presentations
---
Core Beliefs
Staff behavior creates the climate of the school, and a positive, welcoming, and inviting climate should be intentionally created and continuously maintained.
All student behaviors necessary for success need to be overtly and directly articulated and taught to mastery.
All students should have equal access to good instruction and behavior support, regardless of their skills and backgrounds.
Clarity of expectations and consistency of enforcement are essential for all common areas and school-wide policies.
Punitive and corrective techniques are necessary, but they have significant limitations. Misbehavior represents a teaching opportunity.
Everyone (even students who make poor choices) should be treated with respect.
From Safe and Civil Schools Foundations (Sprick, Booher, & Rich, 2014)
Foundations
What is Foundations?
Foundations is a positive, proactive approach used to improve student behavior across all school settings. In USD 489, all four elementary schools, the middle school, and the high school have created a building level team, identified areas to improve, and have started implementing new policies and procedures. The goal is to create safe schools where all students interact respectfully and are engaged in their learning.
---
CHAMPS and Discipline in the Secondary Classroom
What are CHAMPS and DSC?
CHAMPS is a positive, proactive approach used to improve student behavior in the classroom. CHAMPS is the common term used for the strategies used in the elementary grades, and Discipline in the Secondary Classroom (DSC) is used in the secondary grades. Both are centered around the STOIC, which represents the 5 areas that we can influence to prevent inappropriate behavior.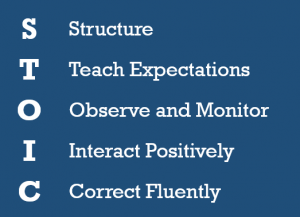 CHAMPS Templates
CHAMPSManagementClipChartEditableFreebie
CHAMPS/DSC Weekly Tips
Menu for Responding to Misbehavior Example
Menu for Responding to Misbehavior Blank
19 – Preparing for Unique Events
TIER II/III Interventions
Intervention Ideas
(Click the intervention for an explanation of the intervention and resources related to the intervention)
Teaching Conflict Resolution Skills
Bullying InterventionDetention
Resources on Restorative Practices
Non-Compliant Behavior – High Probability Requests
---
Behavior Progress Monitoring Tools
Below are various tools that can help monitor the effectiveness of behavior interventions. The Toolkit includes all tools in one, and individual tools are available below the Toolkit
Behavior Progress Monitoring Toolkit
Progress Monitoring Record 0-10 scale
Progress Monitoring Record 0-30 scale
Progress Monitoring Record 0-100 scale
PARTICIPATION RECORD – FREQUENCY Days
PARTICIPATION RECORD – FREQUENCY
Behavior Count Data Collection
Behavior Interval Rating – 15 min intervalsBehavior Interval Rating
Weekly Scatterplot Times Data Collection
A_B_C_Observation_Recording-Form_041414
ABC log Data CollectionABC Recording Form
Direct Behavior RatingDBR Overview for Intervention Teams
Direct Behavior Rating Instructions_pdf_V 1.3 DBR Standard Form – Fill-in Behaviors
Direct Behavior Rating Operational Definitions
Moment by Moment Assessment – Caregiver FormMoment by Moment Summary
Behavior Data Collection Videos
---
Trauma-Informed Schools
Values for a Trauma-Informed Care Culture in Your Classroom and School
Understanding Trauma's Effects on Learning
Helping Students Who Have Experienced Trauma
School-Wide Approaches to Addressing Trauma
Strategies for Coping With Violence and Disaster
Supporting Grieving Students
This list is from Matt Davis's compilation on edutopia.org. https://www.edutopia.org/article/helping-students-trauma-tragedy-grief-resources